Introducing MBUX (Mercedes-Benz User Experience)
 Voice based assistant that responds to anyone saying "Hey Mercedes"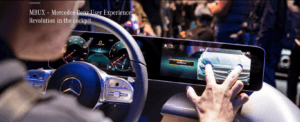 The name MBUX – Mercedes-Benz User Experience – for the new infotainment system signifies that the user experience (UX) has first priority. A unique feature of this system is its ability to learn thanks to artificial intelligence. MBUX can be individualized and adapts to suit each user. It thus creates an emotional connection between the vehicle and driver. Moreover, new content can be transmitted "over the air" as updates.
Watch the video below to learn more about how to get the most out of this new system
Some of MBUX's state-of-the-art features include:
Voice control
"Hey Mercedes" – two words are enough for the MBUX to listen and – even better – it does what you ask. Thanks to the new revolutionary voice control, many functions can be controlled simply by your voice, ranging from the radio to climate control.
Touch inputs
Why is it that we like to touch everything? Because it's in our nature. Just like talking. And that's why the touchpad and the touchscreen, and even the buttons on the steering wheel react to your touch. Simple, natural and intuitive.
Personalization
Just like with a smartphone, you can set up your personal profile. The next time you get in the car, it knows what to do straight away. It also adjusts the air conditioning, the music and the displays so everything is set the way you like it.
Theme displays
MBUX can always manage a little bit more. That's why you can adapt not only the ambient lighting to suit your mood, but also the display styles in the instrument cluster and in the central display.
Head-up display
Navigation instructions, speed limits or your speed – the new optional head-up display can be configured so that it only shows you what you want to see. Exactly in the position you want.
In-car office
Sometimes it's better to leave things to your personal assistants, and the new MBUX is yours. If you want, it can even be your out-of-office office, so you can concentrate on the really important things – like driving. Forgot a meeting? No problem, MBUX synchronises your diary, arranges a telephone conference, reminds you of meetings and then shows you the way there.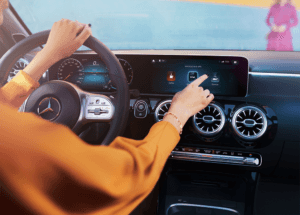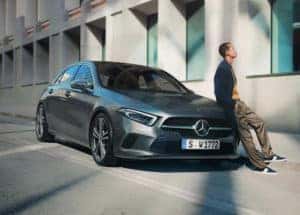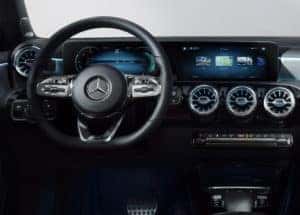 MBUX Is the most advanced multimedia system ever developed by Mercedes-Benz. MBUX stands for Mercedes-Benz User Experience and was designed from the ground up around a touch interface.
Featured In:
AMG®-GT
C-Cab
C-Coupe
C-Sedan
CLA-Class
E-Coupe/Cab
E-Sedan/Wagon
A-Class
G-Class
GLA-Class
GLC-Coupe
GLC-SUV
GLE-Coupe
GLE-SUV
GLS-Class
S-Sedan
SL-Class
SLC-Class
If you have any questions about the new MBUX Infotainment System or its capabilities, please fill out the form below and a sales associate will contact you as soon as they can.